18 September 2010 | 6 Comments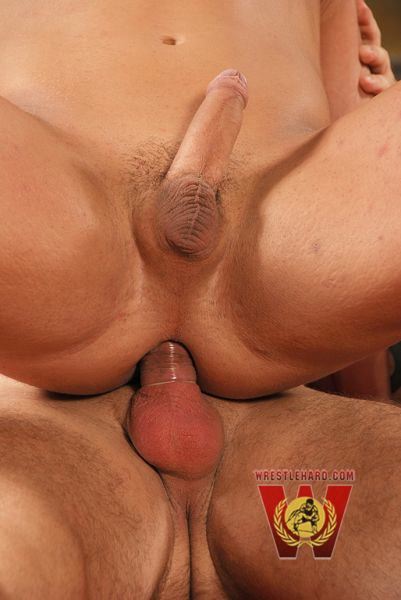 While castration has always fascinated me, I've never actually hooked up with anyone who's been castrated, so I'm not sure what it looks like when it's been done. But the pic to the right, from WrestleHard.com, made me wonder whether the bottom (Brandon Steel) is castrated or not.
I'm guessing Brandon's someone who never had very big balls (not to mention a pretty small dick), then he did some steroids and made this small testicles even smaller. And then finally he's so aroused from getting fucked that his balls have pulled up into his body leaving his scrotum completely empty – just it would be if he'd been castrated.
Personally I think it's sorta hot. Well, the condom's not so hot, but the image of a castrated guy with a little dick getting fucked is sorta hot. It's like he's got no choice but to be a bottom 'cause he doesn't have the equipment to be a top…
The top is pretty hot too… His name is Chris Stone – he's a muscle daddy with great tattoos. His dick is sorta average and his body is so big it looks even smaller, and I sorta wish he hadn't shaved his pubes. But I still think he's a great top… Definitely has the attitude to be a top…
If you like what you see and don't mind condoms – Check out Wrestle Hard…
//
See More Muscular Guys Wresting At WrestleHard.com
18 U.S.C 2257 Record-Keeping Requirements Compliance Statement