12 May 2021 | 2 Comments
Load 2021-7
Yesterday I bred this guy who's been wanting my load for a while now. Apparently when he was younger and lived in another city he used to read my blog and I guess wanted my load back then, but it wasn't an option. Then he moved to NYC. About 18 months ago he hit me up, said he had stopped taking PrEP and wanted my load. Then the pandemic hit and hooking up wasn't really an option. He contacted me last fall from the sounds of it he'd been on-and-off PrEP but getting closer to commit to being poz. Well, yesterday I was able to host and he wanted my load bad enough that he took the subway up for a pump-n-dump.
I knew from his pics that he was relative hot, but when he got here I was surprised – he was really clean cut – which wasn't what I was expecting in a bug chaser. The Asian guy last week had also been really clean cut but a total cumdump pig. It's sorta hot when boy-next-door types are total bareback pigs. And when they're bug chasing that's even a step above.
Years ago bareback porn really took off after Dawson's 20 Load Weekend. Prior to that point the guys were not pretty boys – or the few that were were minority, so (stupidly) didn't have the mass appeal that a white boy jock / frat boy like Dawson had. The last year or so some of the independent producers are coming out with poz fetish porn, but it suffers from the same thing bareback porn suffered from back in the day – models that (to put it nicely) don't really have mainstream appeal. There's also the issue that (AFAIK) drugs are involved or at least many of those involved are known to do rather hard drugs (meth, etc.) I sometimes wonder what the response would be if a a white boy jock / frat boy type filmed his conversion and then did videos where he was openly "toxic" (e.g. wasn't on meds and had a high viral load). We're probably years away from that happening, which is fine because while it seems more guys are interested in becoming poz, it's clearly a fringe group at the moment.
Anyway, all of that was to say that was sorta what was running through my head when I saw this clean cut, white boy show up at my door openly hoping this was the moment he'd get pozzed.
And honestly, I don't know what's real or just fantasy when I fuck guys. I purposely don't discuss my status because I sorta like it that way. I don't know the truth about them and they don't know the truth about me. All I know is that he at least fantasizes about becoming poz. He could be on PrEP, or he could already be poz, or he could actually be bug chasing – only he really knows.
We went to the bedroom, he stripped down. I took off my pants and took out my Prince Albert. He got on his knees a bit and sucked on my dick, then we went over to the bed. I rimmed him for a bit. His ass was completely clean. No hint of musk or having been fucked already. While I was rimming him I put some lube on my dick and then stood up and slid in…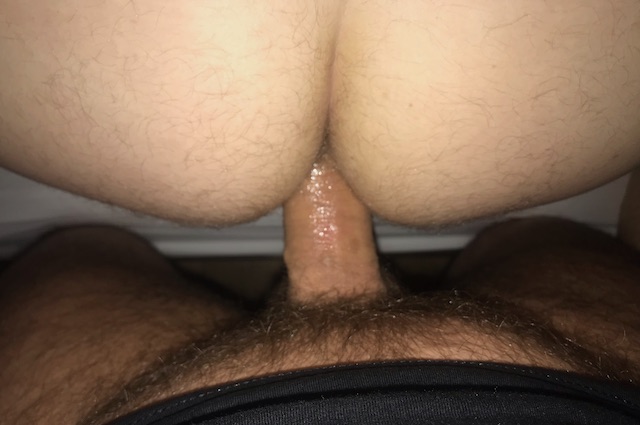 I took a few pics, then had him get on his belly and I continued fucking him. I told him I loved the fact that he wanted to get pozzed. There was a little banter back and forth along those lines. He was telling me he wanted me to blow a toxic load in him, etc. With all the hot talk it wasn't long before I blew my load in his ass (I'm cumming really quickly these days). I was rock hard so just kept fucking him.
Then I got him on his side and slowly pumped in and out of his ass while I held him and felt his body until my cock went soft. We were both really quiet at that point, but it was a nice intimate moment. When my dick finally slipped out of his ass I rimmed him a bit more. His ass was wet but didn't have a strong taste of cum. (I'm sure that changed as it leaked out later on).
While he was getting dressed he mentioned he wanted to know whether I was toxic or not, but knew I probably wasn't going to tell him. Hopefully we'll keep fucking and at some point I will tell him. But not yet…