I just found out I've been made a co-sponsor of the SeXXXy MF dance party Sunday, June 28th – over Pride weekend here in NYC. It's being organized by Cade – the guy who runs all the CumUnion, Milk Chocolate, etc. parties here in NY. The main sponsor is GayHotMovies.com so there will be porn giveaways and plenty of porn stars in attendance. Between Cade's crowd and the porn crowd it should be a really sexually-charged event!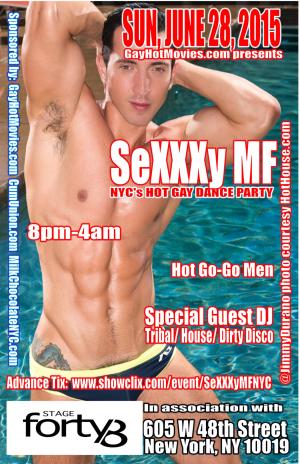 I wasn't allowed to sponsor under the name rawTOP or Breeding Zone since the club is already paranoid about the dance party being seen as a sex party, so sign up under #BBBH instead. I will be doing some (limited) give-aways for guys who sign up under #BBBH. The first 50 guys get free t-shirts (see below for details), and I'll be giving out Breeding Zone wristbands at the sex party after the dance party so you know who the other barebackers are 😉
Unfortunately, sex isn't allowed at the dance party due to NY's laws about alcohol and sex, but there will be a sex party immediately after where you can fuck to your heart's content – and it's free for guys who sign up under #BBBH.
And that's not all… guys who buy their tickets before May 30th get up to 6(!) free sex parties. And not just any 'ol  sex parties – we're talking the ones at Paddles run by Cade, including "Friday CumUnion" which I think is usually the best sex party of the month. But the free sex parties start with the one this Thursday, so if you don't act quickly you won't get as many free parties… The free party dates are: Thursday 5/14, Thursday 5/21; Friday 5/22 (CumUnion); Saturday 5/23 and Saturday 5/30. That's right – three days in a row of fucking over Memorial Day weekend!
And as far as the t-shirts, you can have your t-shirt with one of 4 logos: rawTOP, #BBBH, Breeding Zone or Raunchy Fuckers. They'll be more or less made-to-order by yours truly. But remember, that only happens if you sign up under the #BBBH ticket option.
So buy your tickets now (literally) to get the maximum number of free sex parties out of the deal!